A tailored communication solution with less infrastructure, reduced costs, and a system you can rely on.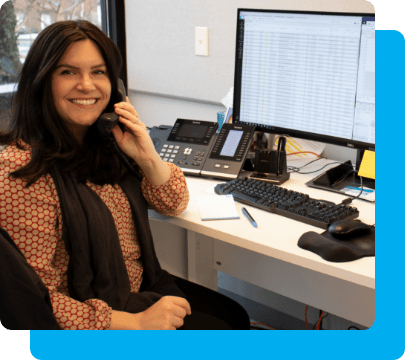 It's a big world out there.
As the market becomes more and more globalized, keeping up with the competition requires progressive communication technology.

Small and medium-sized businesses like yours need the same advanced and reliable communication solutions as the large companies, but without the high costs or frustrating complexity.
3CX Phone System Solutions
Charles IT has partnered with 3CX, a phone solution provider who can install a software-based telephone system on your PC or server. The software is compatible with SIP standard telephones, SIP trunks and VoIP Gateways, and it provides a full telephone system with additional features and benefits.

Manage Your Team
Let your employees know who is available with ease on the 3CX web client and desktop application. Save time by filtering your employees into groups so you can get in touch faster.

Easy Installation & Management
3CX is easily managed by Charles IT experts who have completed many setups, configurations, and implementations. Charles IT can install and manage the software with a centralized management console, saving you the time and hassle of having to perform a manual configuration.

Take Your Extension Anywhere
Whether you're using a smartphone, Mac, or Windows laptop, you can access your office extension from anywhere. All calls are free of charge, and employees can maintain a professional impression by using one single company number

Performance Insights
3CX offers a Call Reporting feature that allows you to better understand how your team is performing. This report targets user activity, extension statistics, call distribution metrics and even average call length. If you are looking to turn your phone system into more than just calls and voice-mails, this feature is vital!
How can Managed VoIP help your business?
Modern communication techniques tailored to your needs for an affordable price
Don't just take our word for it
It's always a great feeling when you know that someone has your back. Thanks for the fast response time and professional service, Matt!
Charles IT are ALWAYS so responsive and helpful. Truly the best!
Charles IT are always thinking of everything we're not. They listen to our needs and they don't just point out problems, they have solutions.
Resources
Recent blogs, articles and guides to help you improve your cybersecurity and compliance.